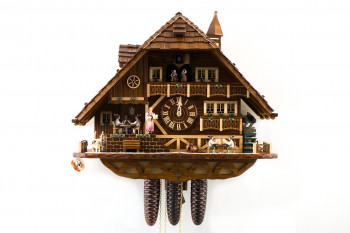 8-day Black Forest chalet with card players, beer drinkers, music and dancers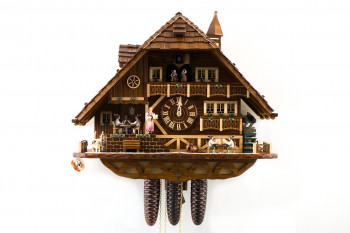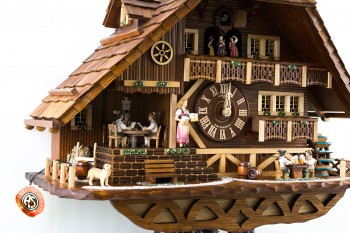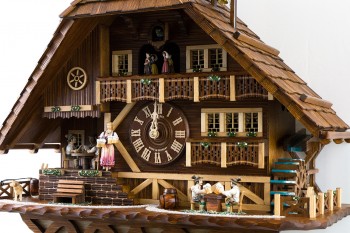 8-day Black Forest chalet with card players, beer drinkers, music and dancers
incl. 19 % VAT excl. shipping costs
---
weight 20,00 KG

Available, enough stock
---
---

Product.Nr. 8TMT 3170_9
8-day Black Forest chalet with card players, beer drinkers, music and dancers
0
---
0

Review(s)

There are no reviews for this product
product description
8-day Black Forest chalet with card players, beer drinkers, music and dancers
Black forest house with bell tower. The house, which has been specially designed to the last detail, has a roof covered with individual wooden shingles.
The slowly adjusted cuckoo call sounds half an hour, with the bell moving in the tower and a bell sounding instead of the gong.
At the same time the elaborately produced card players alternately lift the their cards and the beer drinkers lift the glas.
The music of the 2.36 musicwheel playes at the hour.
At the same time, the poker players raise and lower their hands.
8-day clockwork with automatic night shut-off, hand-painted wooden couple, wooden dial and wooden pointer.
This clock is a real master piece.


Wooden cuckoo
8-day clockwork
Wooden dial and wooden hands
moving wood chopper

Hand-painted figurines
Hand laid wooden shingles
2 melodies: Happy wanderer and Edelweiß
Automatic night shut off
2 Years warranty
Tax Free shopping
net weight 13,0 Kg
Made by Anton Schneider Black Forest Germany